How Fast Does A 50cc Dirt Bike Go
What is 50cc dirt bike top speed?
The speed range of 50cc dirt bikes from all the major brands is between 25 and 40 miles per hour. It may seem dangerously fast for a young 4-7-year-old rider. Parents can limit their kid's speed by setting the throttle limiter, as well as keeping them in second gear.
I hope you start a great family hobby of riding dirt bikes, and you have young children. If your child hasn't had any dirt bike riding experience, I suggest you please keep away to ride them straight on a 50cc dirt bike.
Children's physical health and strength are essential. Dirt biking is a sport of physical strength and is quite demanding. Different dirt bikes come with varying seat heights. Your child mustn't go careering off at top speed and hurt themselves when they are just beginning.
Here are some most demanding dirt bikes to choose from.
Factors That Influence When Purchasing Dirt Bike:
To be more precise, a dirt bike is the sort of bike that could go anywhere and do anything. It is built specifically for off-road tracks and off-road events. Dirt bikes are also engineered in a way where you may see the engines fully exposed. It has minor bodywork to prevent any further unnecessary damage to the vehicle.
These are the main factors that influence the speed of the bike are.
Type of engine
Brand of the bike
Personal demographics
Weight and tiers
Usage
  1. Engine' Type:  (4Stroke vs. 2 Stroke Dirt Bikes – Which is Faster?)
Dirt bikes are designed either with 2-stroke engines or 4-stroke engines. Bothe has own advantages and disadvantages. Here we discuss their engine type affecting the speed of the dirt bike.
Owning an older 2-stroke engine means you have an advantage in power over 4-stroke dirt bikes due to the combustion process happening in two steps rather than four steps.
They also provide more torque at higher RPMs, thus giving the rider an added advantage.
Some prefer the instant surge of power of a 2-stroke engine. In contrast, others enjoy the 4-stroke engine's reliability when putting the power down.
A critical factor affecting the top speed of dirt bikes would be the cooling system in place.
Motorcycles, in general, are air-cooled, but dirt bikes are also liquid-cooled. Better cooling directly affects the top speed of the bike.
2. Brand of Bike: (Effects the top speed)
There is a large industry that makes dirt bikes. Honda is one of them who popularized dirt bikes. However, Yamaha is widely regarded for producing some of the best dirt bikes, and many Motocross professionals trust it.
The top speed of a dirt bike in terms of bike brands would ultimately come down to many factors, including:
Expertise and Experience building dirt bikes
Budgets of research and development
Materials used to enhance performance
These factors directly affect the performance of a bike. For example, a company doesn't have proper budgets to engage in research and development that makes their bikes lighter and faster. It would ultimately affect the top speed of the motorcycle produced.
Some manufacturers use cheaper or heavier materials to save on cost. The bike's performance will be affected compared to a competitor's product.
3. Personal Demographics:
Many human factors affect the top speed of the dirt bike. As a human, we all are not built the same way.
Here are some factors that can affect the top speed of the dirt bike.
Height and build of the person riding
Usage of the bike
Budget to purchase the bike
The weight and body of the rider significantly affect the bike's top speed. Simply put, more weight equates to a slower speed.
Your seating position also decides the top speed of your dirt bike. Spending more time on the bike, you gain confidence and expertise to move faster at high speed.
4. Weight and Tires:
The dirt bike's tires also differ since the tires can handle rough off-road terrains that have to be exposed to water, gravel, sand, and all sorts of dirt out there.
Dirt bikes are lighter than race bikes. It is because engines are usually more significant in race bikes. It means that dirt bikes are more likely to accelerate faster than race bikes. Still, race bikes will usually catch up to the dirt bike in no time if they have powerful engines.
     5. Motocross Track Layout (also affect speed):
The track where you ride is critical regarding the speed of the dirt bike. Tracks should be a type of pavement. It allows smooth travel, therefore, the acceleration of the bike. On the other hand, it might depend on the bike you own.
Top Best 50cc Dirt Bikes:
Before purchasing a new bike, it is essential to consider all the available options. Many different companies produced dirt bikes in this regard. They have the top priority in this respect is reliability and safety.
The differences between them are few. You need to get some knowledge about each dirt bike so you can make a good decision. One prominent feature in all mentioned bikes is an automatic clutch for easy learning.
1. KTM 50 SX: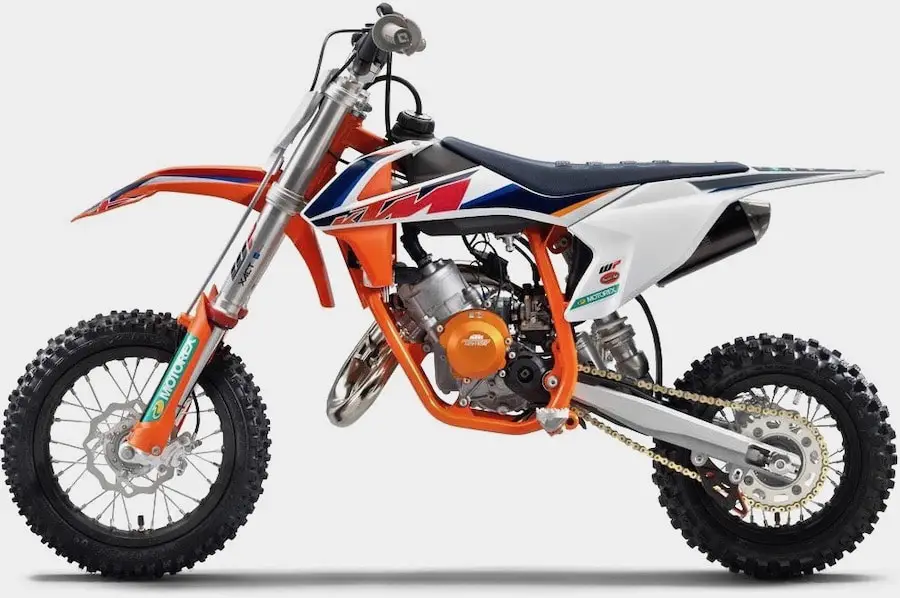 A well-known slogan, "ready to race," makes the KTM a highly competitive reputation in the world of bikes. KTM has a line of versatile bikes in this regard. KTM makes a 50cc dirt bike and uses the same component as their major lineup.
It has a lightweight steel frame which makes it easy to handle, and its single-speed transmission keeps things simple. It has a front fork that is inverted and a radiator with liquid cooling. It also has disc brakes on both front and back, and other excellent feature makes this dirt bike on the higher end.
It is a 2-stroke bike. It required the mixing of oil at a 60:1 ratio instead of 4-stroke. 2-stroke bikes have their advantages, including low-end grunt. Your child will love his Experience on this.
Some key specifications:
| | |
| --- | --- |
| Bike name | KTM 50cc SX |
| Weight | 91.5 lbs (41.5 kg) |
| Power | 5.5 hp |
| Maximum speed | 45 mph (72.4 km/h) |
| Engine | 2-stroke |
| Transmission | Single-speed automatic |
2. Yamaha TTR50:
Yamaha is the brand which produced bikes since 1968 with a 2-stork DT1 model. The TTR 50cc dirt bike provides an excellent introduction to the sports of junior riders. It is an incredibly reliable bike for kids. It is also cost-effective and built well. It runs fastly, and your child will love to ride it.
This bike doesn't come with a kickstart. Make sure your children turn the bike off using the key and never use the kill switch. It will leave the battery on. It will lead the battery to die by the next time your child is ready to use the bike, and it won't start. It comes with a 4-stork engine and 3-speed automatic transmission. It is a product of high-quality components.
Some key specifications:
| | |
| --- | --- |
| Bike name | Yamaha TT 50cc |
| Weight | 128 lbs (58.1 kg) |
| Power | 5 hp |
| Maximum speed | 32 mph (51.4 km/h) |
| Engine | 4-stroke |
| Transmission | 3-speed Automatic |
3. Honda CRF50F:
Honda is one of the first of many Japanese manufacturers who launched their first dirt bike in 1970. It comes and dominates sports. Honda is still the largest bike manufacturer in Japan and gives money to other dirt bike manufacturers. Its entire line is affordable and reliable.
The CRF50cc and the Yamaha TTR50cc are both in the same category also extremely popular for children. The CRF50F comes with 4-stork air-cooled engine and 3-speed transmission. It is highly reliable, and its controls are set similarly to the controls of the adult bike. It comes with a kick start. Most kids can't kickstart a bike.
The main feature equipped with this unique bike is a throttle limiter. This feature gives you an adjustable speed limit. You can adjust its 40mph to speed only by turning a screw before riding. It has almost a gallon tank capacity for the long adventure. Its 3-speed transmission allows the rider that how a dirt bike shifts during a ride.
One prominent difference between the CRF50cc and the TTR50cc is that the former doesn't have the latter's speed. The TTR50 reaches 30mph, whereas the CRF50 reaches 25mph. Its unique features make it easy for kids to transition to the bigger bikes when they reach the appropriate age, physical attributes, and skill levels.
Some key specifications:
| | |
| --- | --- |
| Bike name | Honda CRF50F |
| Weight | 111 lbs (50.3 kg) |
| Power | 3.1 hp |
| Maximum speed | 40 mph (64.3 km/h) |
| Engine | 4-stroke |
| Transmission | 3-speed automatic |
4. Husqvarna TC50:
Husqvarna has a long way history in the manufacturing of the bike since 1903. Its TC50 might be reduced in size but built to the same standards as the full-size model. It looks striking and feels ergonomic as the full-size dirt bike.
The TC50 comes with a 2-stroke engine and single-speed transmission, and liquid cooling system. Husqvarna TC50 has more agility, power and is more technologically advanced than the other bike. Its accessory feature like brakes and handle bare are different from the KTM model.
The latest two-stroke engine technology provides first-class performance. The ride-ability is top because the engine is modern and compact. The cylinder is made of durable, lightweight aluminum, which then provides unmatched performance that competes well in the 50cc class. The multiple discs deliver precise power in line with the RPM range.
Some key specifications:
| | |
| --- | --- |
| Bike name | Husqvarna TC50 |
| Weight | 91.5 lbs (41.5 kg) |
| Power | 5.5 hp |
| Maximum speed | 45 mph (72.4 km/h) |
| Engine | 2-stroke |
| Transmission | Single-speed automatic |
5. SSR 50cc: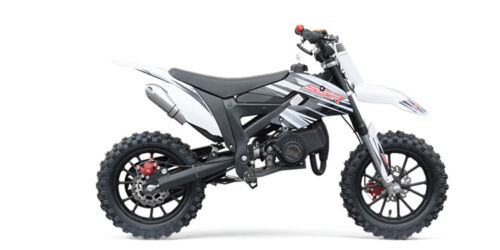 SSR 50cc is a low budget and cheapest of all the dirt bikes available. It comes with an automated start instead of a kickstart. It's great for kids with no skills in operating a manual one. The 50cc comes as a savior to most parents who only want the perfect for their kids.
From the safety point of view for the worried parents, an exceptional feature in this bike is its two brake features in that model. They are installed at the front and back wheel for safety. You will also love the color choice you can choose from depending on your child's life Style. For budget-seeking parents, It is also very affordable and lightweight.
However, they're not recommended for long-term use. But if you want a fun bike that you can crash. These bikes require a lot of work and maintenance for their upkeep. These bikes are suitable for people accustomed to fixing things, are on a low budget, and badly want to buy a new bike.
Some key specifications:
| | |
| --- | --- |
| Bike name | SSR50CC |
| Weight | 95 lbs (43 kg) |
| Power | 3 hp |
| Maximum speed | 40 mph (64.3 km/h) |
| Engine | 2-stroke |
| Transmission | single speed |
6. Apollo DB-X 50cc Dirt Bike:
This Apollo DB-X 50cc is a fun and sturdy option for a first bike. It helps your child perfect and be a confident rider with its small and wider tires. It enhances the riding experience and helps the child stay in control of the dirt bike.
It features a safety kill switch, and the excellent suspension will make riding on trails even more fun. The top speed is 25 mph, and the chain drive transmission provides a smooth riding experience.  It's easy to handle due to the twist grip, throttle control, and adjustable handlebars.
Some key specifications:
| | |
| --- | --- |
| Bike name | SSR50CC |
| Weight | 85 lbs (38.5 kg) |
| Power | 3 hp |
| Maximum speed | 25 mph (40.2 km/h) |
| Engine | 2-stroke |
| Transmission | single speed |
What Is The Best 50cc Dirt Bike?
The 50cc dirt bikes listed above have their upsides, but as long as speed matters, the KTM SX50cc or the Husqvarna TC50cc. Both have a top speed of 45 mph with a 2-stork engine and a single-speed transmission.
They also have a cooling system for a reliable ride and to control the temperature.
Conclusion:
Your budget can play a big part in how fast your bike could go. With a larger budget, you could modify your 50cc dirt bike by installing performance-oriented components.
Dirt bikes are, in fact, a lot of fun. If you are a speed lover, I'm sad to say a dirt bike is not for speed. It could also cause severe injuries if you aren't careful. So always use safety gear and never attempt to reach unsafe speeds.
References :
Latest posts by Dirt Biker
(see all)